Forums, For Sale / Wanted
Forum to advertise boats, equipment, and clothing for sale or wanted
This forum is viewable by the public.
...
login
to see all forums and join the conversations ...
19:01 16 April 2021
Very reluctantly, due to retiring from sailing, our longstanding club member Mike Hellier is looking for a buyer for his Solo dinghy "Blown Ranger", sail number 4482.
This great little dinghy was originally owned by Paul Kimmens from whom Mike bought it. It is a composite Solo and comes with a combination trailer and launching trolley. It was built in 2003 and remains in good condition.
The sail was new in 2006 and, as Mike has not used the dinghy intensively over the years, it remains in good condition.
The wooden deck has some small areas of damage to the varnish which will need attention, but it is otherwise in good condition. The rubbing strip needs attention and re-varnishing.
The rudder has 3 very small chips out of the trailing edge of the rudder and Mike carried out some minor repairs on it some years back. Otherwise it is in good condition.
Please see the attached pictures for more details.
The market value is estimated to be £1500 but Mike is open to offers. If you are interested in this Solo or would like more information, please contact Mike Hellier directly at mikejanhellier@btinternet.com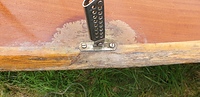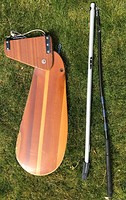 11:22 7 April 2021
Opti in good condition with full kit for sailing. It comes with oars a removable bench so it can also be used for rowing. Great little boat to start sailing, our children have outgrown it. £200 all included. Pick up at The Landings in South Cerney. Call Yda 07876592291
17:20 1 April 2021
Full Topaz tres rig in very good condition. Consists of non tapered sealed mast, boom, mast support for second position, big roach fully battened mainsail and high aspect ratio jib with roller reeling , retracting pole and single line hoist and drop gennaker system and trapeze. Turns a normal Topaz into a high performance racing dinghy. Can be viewed at the club lake or in Gloucester. Bargain at £250. Richard Webb 07815207508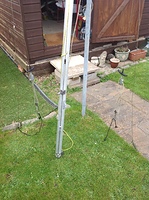 16:56 4 February 2021

We have received the following 'wanted' request.

Wanted: Laser 2000 or wanderer in good condition
Contact: Amara 07972 484551
Many thanks
Amara Lawson
07:43 20 September 2020
Status: For SalePrice: £10.00Contact Name: Ian BartlettContact Phone: 07966333592Contact Email: Ian.bartlett007@outlook.com
I have 4 remaining tie downs which would be good for boats similar to a Solo. (Laser, Areo, etc)
These can be seen in the boat park on a number of Solos.
I also have 3 tie downs which has adjustment on both sides for £12. All sets come with two protective sleeves to protect the hull/cover
I have these in my car so if you are interested catch me down the club or send me an e-mail.